GenZero: Designed with Nature
It's never been more important for our children to be growing up in net zero carbon, healthy environments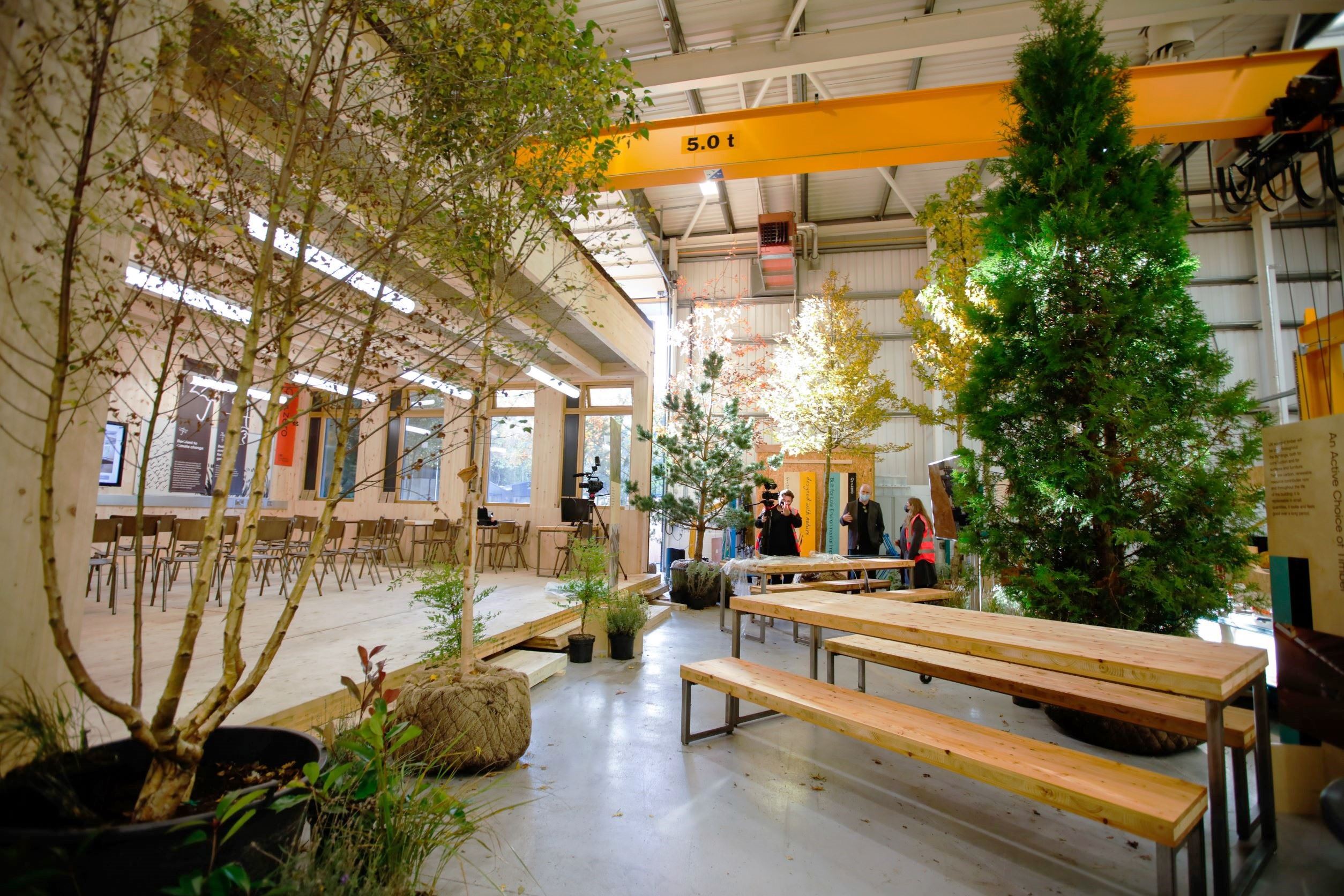 GenZero is a project to create new, improved design standards for school buildings with the aim of making them net zero.
Between 2019-21 the UK Government's Department for Education (DfE) Design Team have led a pioneering research project to develop a new standard for secondary schools that would deliver an ultra-low carbon outcome and design a digitally based construction system to support the best off-site manufacturing. The prototype is configured using a pre-defined 'kit of parts', which are proven to demonstrate greater whole-life value, lower carbon and energy use, better safety and quality, which will improve the overall performance of buildings.
The GenZero prototype was manufactured and showcased at Construction Scotland Innovation Centre for the duration of COP26 as a demonstration of a classroom setting using these sustainable methods. The project launched officially on 4th November as Mike Green, Chief Operating Officer of the Department of Education 'cut the ribbon' by sawing the wood off its door.
Sustainable building for sustainable learning
Easily accessible green spaces have a measurable effect on the health, wellbeing and educational attainment of learners; one Australian study has shown that learning in a timber environment can slow children's heartbeats by around 8600 beats during the course of a day. Therefore, GenZero schools are designed to make the most out of the environment. The schools have dedicated spaces for outdoor learning, physical and social activities as well as horticultural areas, bike stores, and lots and lots of trees.
The demonstrator 
The GenZero prototype was manufactured at BE-ST using Cross Laminated Timber and Glulam from our vacuum press. The GenZero classroom prototype contains 10t (20m3) of timber. The embodied carbon produced by creating the structural materials and constructing the classroom resulted in 9t of CO2e emissions. However, the carbon stored in the timber during its growth is equivalent to 16t CO2e, meaning the prototype can act as carbon storage during its life.
The 8t (16m3) of glulam and CLT used in this prototype was completely grown and manufactured in Scotland. To produce this much engineered timber requires approximately 27 trees, which would be harvested from an area of approximately 800m2, or about a tenth of a football pitch. The UK's certified sustainably managed forests cover 1.41 million hectares, meaning enough timber to produce the prototype is grown every 64s in the UK.
Along with building the next generation of net zero schools, Beverly Quinn, Design Advisor at Department for Education, said during our Wood for Good Conference that among the project's next steps is exploring the potential application of this approach to the UK's existing school stock.