NearHome: Getting to work on retrofit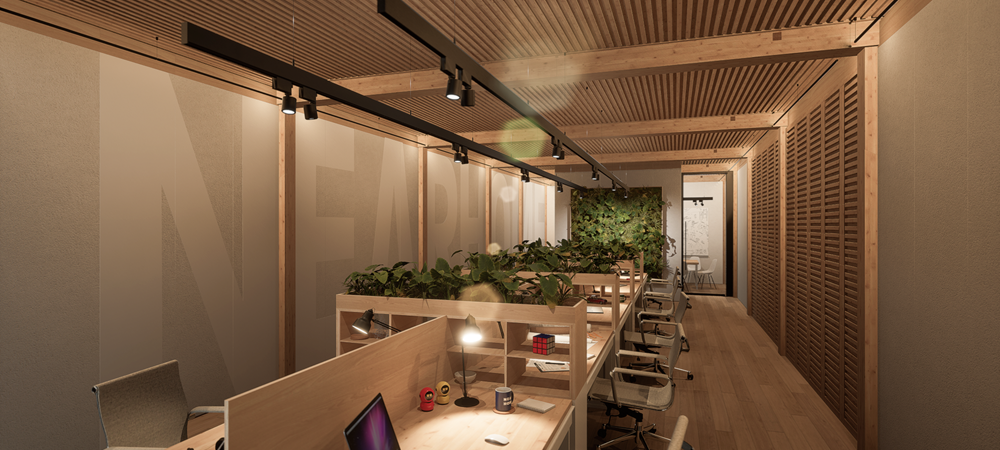 The NearHome project is helping retrofit public spaces into sustainable office alternatives, reflecting the changing working patterns of a post-Covid Scotland.
The toolkit, which will be freely available to businesses and construction firms, centres around a kit-of-parts structure that can be installed quickly and with minimal interference for the building's external fabric. It offers a solution for buildings that may have previously been considered too difficult or costly to retrofit. Sustainability is at the core of design, with a kit made from Scottish timber that can be easily deconstructed and re-used if required.
NearHome is part of the Scottish Government's Work Local Challenge Programme. A Fairer, Greener Scotland: The Programme for Government for 2021 to 2022 states:
Over the course of this Parliament, we will deliver on our vision for 20 minute neighbourhoods: places where people can have their needs met locally within a 20 minute walk from their homes, reducing emissions and encouraging active travel

A Fairer, Greener Scotland: Programme for Government for 2021 to 2022
Starting with the challenge
The project originated as a challenge set by Transport Scotland to facilitate the creation of 20 minute neighbourhoods, as outlined by plans from Government. After seeing the challenge, Alexndar Holt, MD at Civtech and member of boards brought BE-ST into discussions. With Scottish Futures Trust as a consultant, the team started working on what would become NearHome.
Combining Digital, Retrofit and MMC
The project bought together a team of collaboration: 2 innovation centres, 3 teams at universities and many Scottish-based SMEs to deliver an unprecedented combination of cutting edge digital technology, modern construction methods and social-value oriented design. 
We are continuing to deliver the Work Local Challenge Programme, working with partners including the Construction Scotland Innovation Centre and Scottish Futures Trust on innovation and deployment of local work hubs and office space solutions to enhance workplace choices.

A Fairer, Greener Scotland: Programme for Government for 2021 to 2022
A physical demonstrator using the design along with a digital preview of the toolkit's interface was on display publicly for the first time at BE-ST during its landmark BE@COP26 series of events.
Ecosystems Technologies then went onto build a full demonstrator unit using the NearHome design tool kit, which is now on showcase at our Innovation Factory.