The true cost of waste: the hidden price construction is paying for
Construction waste can cost companies upwards of 10 times the amount than they might first think, says Zero Waste Scotland, which has published a new site waste protocol. Reducing waste is a real avenue for increased profits.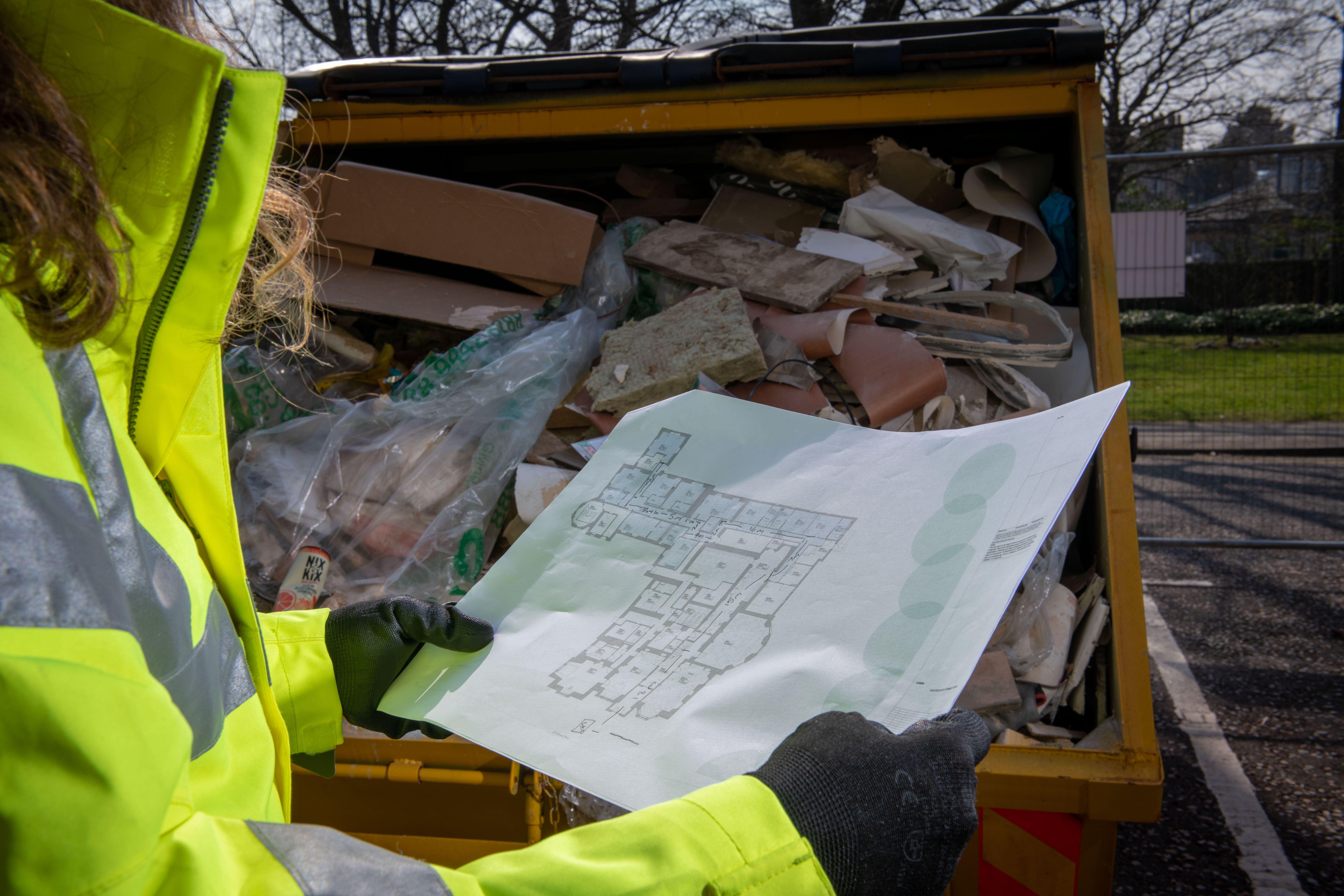 Our Associate Impact Manager Sam Patterson recently sat down with Zero Waste Scotland's Stephen Boyle to explore the true cost of construction waste and a newly published protocol to help reduce it.
The protocol is designed to benefit businesses. And the protocol is simple – as simple as someone on site with a clipboard. The protocol came out of a project, which was a collaboration between Glasgow Caledonian University and Zero Waste Scotland, that trialled more tech-based solutions such as AI and remote monitoring, but the team found that fostering communication and culture are necessary for zero waste. People are at the centre of reduction, not the tools.
Although wastage can sometimes be an afterthought, cost savings were the main topic of conversation in our chat with Stephen, who suggests that those who are already making steps in this area might be getting ahead. And those who haven't yet will want to start.
Sam Patterson: To start off, what do you believe the true cost of waste is?


Stephen Boyle: When you ask a business initially what the true cost of a skip is, they'll tell you it's around £300 for an 8-yard skip.
But the true cost includes far more when we look at the time and materials that are put into filling it.
Breaking down all cost measures, including transportation, handling, employee time and other factors, makes it much larger than just the cost of just the skip itself. Previous research in 2007 estimated this cost at around £1300.
But we've now done 20-30 exercises to test this cost with our protocol and we now believe that around £1900 is the average for the true cost of an 8-yard skip.
And the cost greatly depends on the type of project. We've found that in the fitout stage of domestic buildings then we are actually approaching much higher figures, like £3000 and more for the cost of an 8-yard skip.

Sam Patterson: And how do companies and we, as a society, benefit by adopting the waste protocol?
Stephen Boyle: Consumption has by far the largest impact on carbon generation in Scotland, with consumption over all areas being about 80% of our carbon footprint. And by weight, 50% of all materials that we consume in the country is in the construction sector. If we can work through partnerships with construction companies and others to take action to reduce consumption and waste, then we are making progress on our 2045 net zero target for carbon.
Businesses benefit themselves as it helps feed into their strategies: it reduces their costs, but it also eliminates business risk. A lot of materials, especially high value materials, we import from abroad so if we are using our materials better, we're actually mitigating the risk of international market variations of cost as less materials need to be procured.
We are also identifying large volumes of materials that go into the skips that are reusable. If someone takes the time to look at them and use them, then you'll see reuse going up a lot, again seeing more of these savings.
The positives are there and they all feed into the big picture of meeting national and company targets.
Sam Patterson: How does the protocol support Zero Waste Scotland?
Stephen Boyle: Sharing waste information with us can help develop targets and provide understanding for businesses who are new to using the Protocol. For example, a house builder who has not used the Protocol before can look to us for guidance on what targets they should set for material and waste generation on their site. They can ask us questions like "what kind of target should we be setting for waste generation on this site?" and we can provide them with the necessary information and guidance.
What we have is a simple measurement tool – people talking to people and understanding each other. But from that knowledge, we can create greater change, and register the impacts on the environment and benefit the bottom line and create greater productivity and economic benefits to the businesses as well.

Sam Patterson: What would your message be to organisations who say we don't have the capacity to try the protocol and challenge waste reduction now?

Stephen Boyle:  The basis of all of this is knowledge. And through knowledge, it empowers you to do things differently.
If you approach an individual on site and say to them:
"I'm going reduce the amount of onsite cutting you need to do. The number of times that you need to travel to the skip to dump your materials. I'm going to reduce snagging, so we don't have to bring you back to do this work again. And I'm going to cut the time that you're actually on site," the reasons to start looking at this area are then clearer than ever.
And that's where the protocol kicks in. It measures the generation of onsite waste on a structured consistent basis so that you can compare it from project to project. But not only does it monitor the waste, it monitors the reasons for that waste generation and gives insight which can then be passed to the site manager to take immediate action and reduce waste and consumption.
Companies talk about the very small margins for large projects within a project, like 1% profit on a multibillion-pound build. And they then say they didn't realise that the waste costs for this build were actually near the 1% as well. Really digging into profit margins.
This is how you help people understand the value in going through this process, which helps have an impact in improving people's pay and the bottom-line profitability.
And then there is also that by reducing waste, you're reducing your impact on the environment and you're supporting companies' own strategies and policies and commitments to net zero and sustainability goals.

Sam Patterson: Finally, could you step me through how somebody can go about using the protocol?

Stephen Boyle: Go to our website and download the protocol and all of the related documents. They're free and there is also an Excel tool which helps and supports someone doing the exercise.


Providing that you are fully trained in health and safety to work on a site, the first step is to communicate with the site workers. This is very important. You need to communicate to the people on the site that you want them to work as normal. It is not a test on them. We want to be open and transparent about why things are happening.
Then the individual will go with a clipboard or an iPad with the tool and stand by a repository for waste and watch over a period of time. They will look at the placing of materials into that skip, and at each point have a chat with the person who is putting that material in to get a bit of understanding of where it's come from and why it is actually going into the skip.
The Excel tool itself will then give the baseline information about the volumes, the cost and the reasons, which you can then print out as a report.
It will be a learning process for any individual, but it really does just start with a person with a clipboard standing next to a skip talking to people.
Site Waste Reduction Protocol
Explore Zero Waste Scotland's Site Waste Reduction Protocol and Construction Waste Indicative Cost Calculator (CWIC) to make reducing site waste easier to carry out, measure and quantify.