CSIC Prepares to Launch New Facility for Industry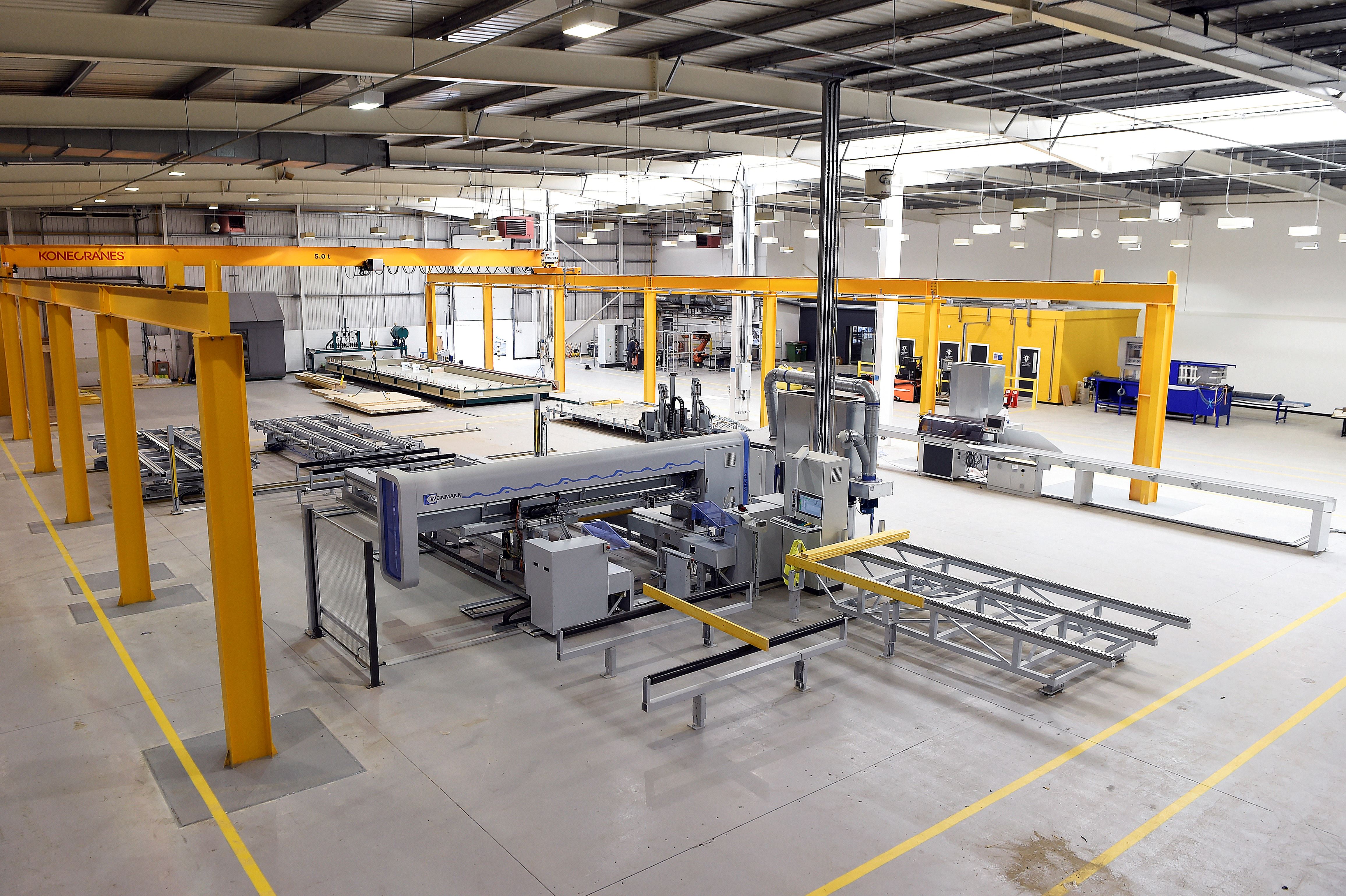 The Construction Scotland Innovation Centre (CSIC) prepares to open the doors to its new innovation and collaboration facility to construction companies across Scotland.
The Scottish construction sector employs 170,000 people – 10 per cent of all Scottish jobs – across 31,000 businesses. The new CSIC premises at Hamilton International Technology Park in Lanarkshire will be open to any of those people and businesses to use, and is designed to help them to innovate, collaborate and learn.
The refurbishment and fit-out of the new facility will begin in early January and will be undertaken by principal contractor akp Scotland. The project will involve alterations and refurbishment to form new two-storey offices, alterations to the warehouse area, and services installations relating to the warehouse plant equipment and machinery. 
Funded by CSIC, the Scottish Funding Council and Scottish Enterprise, the new industry-led facility will deliver 30,000 sq. ft. of workshop space housing state-of-the-art construction and manufacturing equipment, complete with a 5 tonne overhead gantry crane for heavy lifting.
This equipment will allow construction businesses of all sizes to prototype and develop new products, processes, systems and solutions, from early stage ideas through to full commercialisation.
The facility's office space will be fitted out to cater for training delivery, events, seminars, meetings and hackathons, where partners are encouraged to work together to tackle key challenges in short, intensive workshop sessions. A suite in one of the seminar spaces will be equipped with the latest hardware and software to allow companies to prepare for impending BIM Level 2 compliance requirements in a live, interactive environment.
The facility will also include a construction incubator where start-ups and very small businesses can collaborate with industry, academic and public sector partners around innovation projects.
New dedicated staff from the Innovation Centre's sister organisation, the Construction Scotland Industry Leadership Group, will soon be joining the CSIC team at the new facility, creating a formidable one-stop-shop for the industry around collaboration, innovation and leadership.
Businesses can access the flexible services, facilities, training and equipment through either being part of a collaborative project, pay-as-you-go, membership or open access models, with a variety of benefits tiered to each option.
CSIC's move to Hamilton International Technology Park was brokered by Knight Frank, acting on behalf of Conygar Investment Company.
The Innovation Centre will occupy a total of 34,866 sq. ft. in the recently-refurbished Watt Place as part of a 10-year lease.
The workshop space and equipment will also be used for training purposes, allowing the industry to attract and develop fresh talent and build new skills using the latest virtual reality and drone technology, automated manufacturing equipment and advanced robotics as part of a move towards greater productivity, through adoption of digital and industrial processes.
We are really excited about the potential offered by this new innovation facility for industry. Our delivery team are extremely busy getting everything ready to launch this resource to industry in the summer.  It will provide a dynamic environment, away from the conventional building site, where the Scottish construction industry can innovate, take risks, explore and learn, safe in the knowledge that the activity here is protected from the perceived risks of innovating on live construction sites. Since we launched in October 2014, CSIC has made fantastic progress, helping 42 innovative projects get off the ground so far, and we hope that having this new facility at their disposal will inspire even more people within the construction industry to get innovating.

Stephen Good

Chief executive of Construction Scotland Innovation Centre
We look forward to working with Anderson Bell Christie, Armour, Currie & Brown and Scott Bennett in completing this project for CSIC. Having completed tenant and landlord works within this building a number of years ago, we have acquired knowledge of the building layout and an in depth understanding of the services and existing M & E, which we feel will prove invaluable to the delivery of the project.

Martin Rowley

Joint managing director of akp
CSIC's move to Watt Place highlights the level of demand in the market for modern, well-located industrial units.  The property delivers the ideal combination of high-quality warehouse and office facilities, which in today's market is difficult to find. The Innovation Centre will join companies such as Scottish Power, Babcock, First Direct and First Engineering at Watt Place, demonstrating that businesses are looking to areas outside of Glasgow's core to meet their needs. The University of the West of Scotland has also announced the development of a state-of-the-art campus at the complex, bringing further investment to the area.

Sarah Addis

Senior surveyor at Knight Frank