Eildon Rural Green Living: Stepping off the brink in the Borders
Eildon Group is working towards net zero housing
The Eildon Group has, according to Development Project Manager Kevin Scott, been 'on the brink' of a sustainability commitment for some time, incorporating elements like air source heat pumps and PV panels in its new builds.
Now, as part of a five-year strategy for growth both in the business and in housing provision in the Borders, the Group has committed to a series of projects with a full focus on sustainability.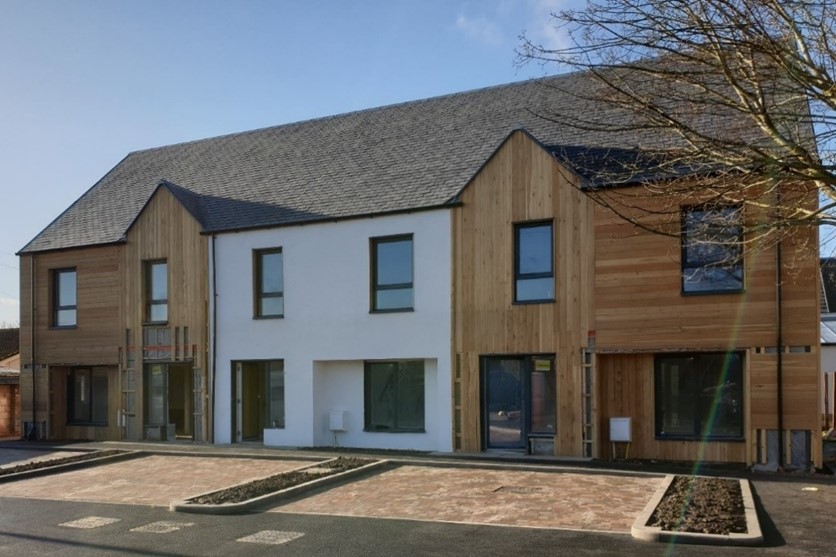 Studying net-zero
Eildon Group is made up of parent company Eildon Housing Association Ltd and Eildon Enterprise Ltd. It provides housing, care and support services across the Borders region, and is recognised as one of the leading housing providers in Scotland.
As part of its growth strategy over the next five years, the Group plans to invest heavily in four pilot projects in Westruther, Broughton, Denholm and Innerleithen, each of which will explore a different sustainability standard of build – Passivhaus, Energiesprong, Volumetric and traditional timber frame.
Its aim is to create a selection of homes built to future-forward standards, and to monitor their energy performance over a period of around two years after completion.
Immediate Expectations
The four construction methods this study will explore will not all deliver net zero carbon on their first go-round. Of the four, Eildon anticipates that Energiesprong will come closest – in fact, it's likely to reach the target because the entire model is designed to achieve energy self-sufficiency. The other three are not, although they will contribute towards a net zero result.
The current goal, however, is simply to find viable ways of moving forward towards a sustainable future for the construction industry, rather than waiting until change is imposed from the outside. The study is creating an opportunity to explore and develop design and construction, and to consider the skills, raw materials, delivery methods and supply chain associated with it.
Eildon will be sharing its findings as it goes and in full when the study is complete. It's working with Borders College Heriot Watt to find ways of helping the next generation of designers and builders to understand what's expected of them.
It's also applying learnings to other current projects. For example, a flatted development in Galashiels needed an alternative to gas boilers. Stacking individual air source heat pumps around the outside would not have been aesthetically pleasing, or particularly efficient in terms of energy use. So the decision was made to create a communal air source system that would feed into each flat.
Similarly, Eildon is exploring the possibility of battery storage to store the power being generated by the PV panels on the roof of the building, which would otherwise have to feed into the grid. The idea is that the batteries would charge during the day and power the heat pump in the evenings, further reducing the building's CO2 footprint.
On another project, a single-dwelling refurbishment, Eildon is applying learnings from the pilot and early indications are that it might be very close to achieving net zero – a first for the business in terms of a refurb.