Report outlines Scotland's pathway to engagement with low carbon heat
We are pleased to announce the publication of a new report that aims to help ensure the uptake of low carbon heat in Scotland's 2.5 million homes.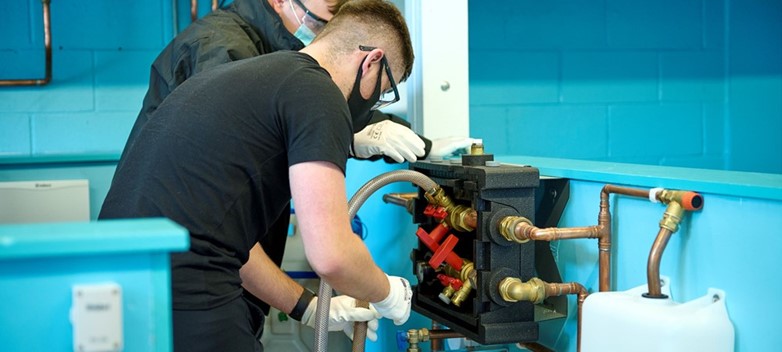 Scottish Government anticipate almost all buildings in Scotland must be using a zero emissions heating system by 2045 to meet net zero targets. By engaging with current heating installers who are crucial to delivering this, the new report 'Pathways to Engagement with Low Carbon Heat – an industry perspective' identifies the skills needed for net zero heat and offers key recommendations for industry, certification bodies and Government to support the upskilling of installers.
The report is a collaboration between SNIPEF, Energy Saving Trust, BE-ST and The University of Edinburgh.
Faye Wade, University of Edinburgh and author of the report, said: "This report shares much-needed industry perspectives on how to achieve a transition to low carbon heating systems. It's only by acknowledging the challenges that heating installers themselves face that policy makers and industry can develop appropriate mechanisms to support them in delivering net zero."
Pilar Rodriguez, Energy Saving Trust said: "The challenges ahead for the Scottish supply chain are many and complex. This report provides a pathway to engage with installers by identifying the skills needed for net zero delivery, barriers to training and certification and providing recommendations to key stakeholders so they can support installers in their transition to net zero heat. The time is now to upskill installers to ensure they are ready to deliver on Scotland's legally binding net zero target by 2045."
Alan Johnston, BE-ST said: "We are delighted to provide support for this report. We recognise that by understanding installers barriers and mapping the training pathways will be a core element of the construction sector's transition to zero carbon, and we want to help provide the industry with insight and endorse the recommendations set out in the report to help achieve the 2045 Scottish Government targets."
Helen Melone, Scottish Renewables said: "With the Scottish Government's target to reduce emissions from heat in buildings by 68% by 2030 the demand for low-carbon heat technologies will increase significantly in the coming years. Renewable heat already supports 2,390 jobs and contributes £358 million year to the Scottish economy every year, and the opportunity for supply chain businesses across all low-carbon heat technologies is vast. The Construction Scotland Innovation Centre's report highlights the gaps and challenges within the industry and aligns with many of Scottish Renewables key renewable heat policy positions, including the need for a replacement for the Renewable Heat Incentive, awareness campaigns to stimulate the marketplace and capacity building for small and microbusinesses to step up to the transition to low-carbon heat."