Sustainable Insulation Module
BE-ST has launched the next part of their Low Carbon Learning Programme. The focus will be on the Fabric and Structure of a Net Zero Build.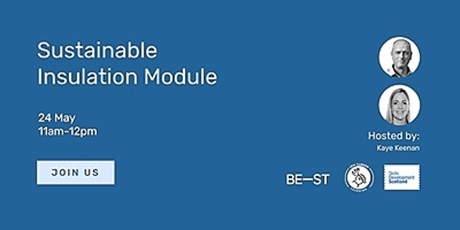 This free-to-attend course will focus on the fabric and structure of sustainable buildings. Supported by Skills Development Scotland as part of the National Transitional Training Fund BE-ST is offering valuable training for people in the construction sector looking to upskill and reskill, supporting a Scotland-wide transition towards a zero-carbon built environment.
Up to 500 places are available for Low Carbon Learning: Fabric and Structure and the course will run until July. The series covers four core areas critical to the future of the sector. Training includes a blend of online learning and live demonstrations at BE-ST's Innovation Factory in Hamilton – home to the UK's only commercial-scale vacuum press for manufacturing cross-laminated and glue-laminated timber components, and a Pilot Insulation Line for trialling new insulation materials.
Focusing on circular and sustainable insulations with an emphasis on homegrown materials to show the positive impact these can have on the embodied carbon profile of a building whilst offering comparable or enhanced energy performance. The modules will highlight the alternative options to commonplace insulation types and the wider retrofit and new build design considerations at specification stage.
Importantly all the modules will focus on the technical challenges to reduce embodied and operational carbon and develop the new skills that will be needed to construct net zero buildings.
Hosted by Kaye Kennan, Impact Manager, Built Environment - Smarter Transformations
Speakers include:
Mark Lynn, Managing Director, Eden Renewable Innovations Ltd